Users are members of your organization or team who have access to WoundReference. This article talks about managing user accounts in WoundReference.
Account Structure
Each Account (e.g. ABC Clinic) within WoundReference can contain multiple users. When you create an account you automatically become the administrator of the account (e.g. User A). Each User has their own email login and password. Users in the same organization can see each other's favorite products and the shared formulary. 
Administrative User
Each account has one primary administor with control over the management of users within the account. The initial account registrant is give administrative rights to the account. The administrator rights can be reassigned to other users within the account management page. The Administrative User has permission to edit Account details within Settings > Account. 
User Manager
Larger organizations may require multiple account managers. Assign a User to the Manager role within Settings > Users > User.  Managers can access the Settings > Users tab within the top menu to administer Users. 

Create Account Users
 Administrators can invite or create account users. There are 4 options for creating user accounts:
1.  Click green Add User button to get started.
2. Select how you would like to add user(s) on the dialog box.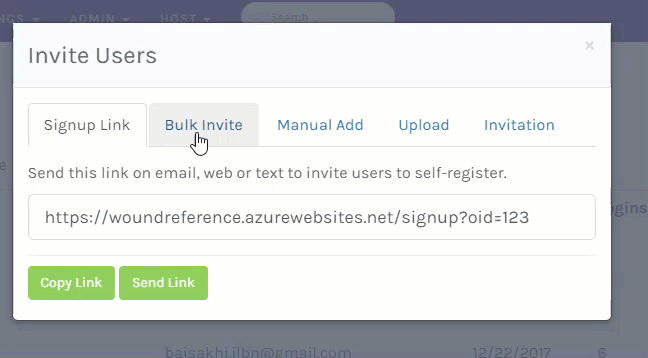 Signup Link - Share this link on email, text or internal website with users you would like to join your account. Users can self-register and will be automatically associated with your account.
Bulk Invite - Enter comma delimited list of user email addresses to add as users. Each user will receive an email to visit the site and complete their profile. Note that you can add a custom note to the invitation on last tab. 
Manual Add - Manually add user information including their email and password. Notify the user of their login credentials, and they can later change the password. 
Upload - If you have many (>100) users to add, you can email us a comma delimited list of user information and we will import them on your behalf.  
Invitation - Add custom note to email that is sent to each user when doing a Bulk Invite.
Paid Accounts
Users within a paid account inherit the parent account permissions (e.g. PRO + HBO). While under free Basic account permission can add users without limit, but higher level paid plans are limited to the number of paid seats--contact us to adjust your seat count. 
Deleting Users
Users with no associated data can be deleted. Any user can be deactivated or reactivated at anytime. Deactivated users are not counted as a licensed seat and will no longer be able to login.  
Change Password
Account users can update password at anytime with Change Password menu item. Managers can update password via Settings > Users > Edit User > Password.